primeCROWD
SignD receives €1 million growth capital from international primeCROWD investors
Digital proof-of-identity specialist expands internationally
SignD Identity was founded in 2019 in the Austrian capital and has now received a boost by securing new growth capital. SignD specializes in digital onboarding and KYC for banking and insurance companies, brokers, and the telecom and gaming industries. During this short time, several high-profile national and international customers have been acquired. The additional capital of the primeCROWD investor network is now being used to finance SignD's international expansion.

"This new capital enables us to take a leap in product development and strengthen our international sales and marketing efforts, as well as grow our team", said Bernhard Reiterer, Founder and CEO of SignD Identity GmbH. The group of investors comprises key members of the SignD team, well-known names such as Fritz Schweiger (QC Advisers), Felix Famira (former Jumio investor), Toni Moser (KNP Financial Services), as well as several international partners eager to support SignD with their expert knowledge and extensive network.

Fritz Schweiger, Austrian entrepreneur and investor said: "I am convinced that SignD's solutions have hit the market at exactly the right time. Companies are now actively seeking solutions to digitize their onboarding processes – and SignD enables them to do so without lengthy and costly IT projects."

Digital proof-of-identity
Increasing digitization, particularly during the Covid-19 lockdown, is shifting a large share of commercial activity and processes to the internet. Often an official proof-of-identity is a pre-requisite for doing business online, and there are strict regulatory standards for banking or telecommunication businesses. In addition, service providers and their customers have a legitimate need to know the identity of their counterparts. "Our investors are aware of the rapid increase in digitization, fostering their interest in SignD", explained Martin Bechter, COO of primeCROWD. "Our network also invests in times of crisis. With Covid-19, we were quick to identify business models that stand to benefit from this increased digitization. As a potential crisis winner, SignD convinced our investors from the start".

Current KYC methods are often awkward and frustrating for users and therefore lead to high bounce rates. In addition to a poor customer experience this can undermine significant marketing investment. With its seamless and compliant onboarding solution, SignD closes a gap in the digital onboarding process. The exclusive use of best-in-class technology, with full regulatory alignment, achieves superior conversion rates, all via a customer's smartphone. "SignD offers a much sought-after KYC platform for businesses which enable them to onboard customers fast and fully compliant with all relevant regulations", added Felix Famira, entrepreneur and investor. "What previously had to be conducted via a complicated manual combination of many different systems can now be implemented with a simple, aggregated, seamless solution from SignD".

SignD is a one-stop shop solution for consumer enrolment. It covers the whole KYC and onboarding process, from personal identification, address validation, to additional checks such as anti-money laundering (AML) or Politically Exposed Persons (PEP). Other services, including Qualified Electronic Signature (QES) will be launched soon. SignD's solution is suitable for all instances where the provision of official proof-of-identity by the user is necessary for the use of digital products and services. Typical applications include bank account opening, concluding a telephone contract, and registration on a booking or gaming platform. SignD enables proof of identity for over 200 countries and regions based on more than 7000 official documents.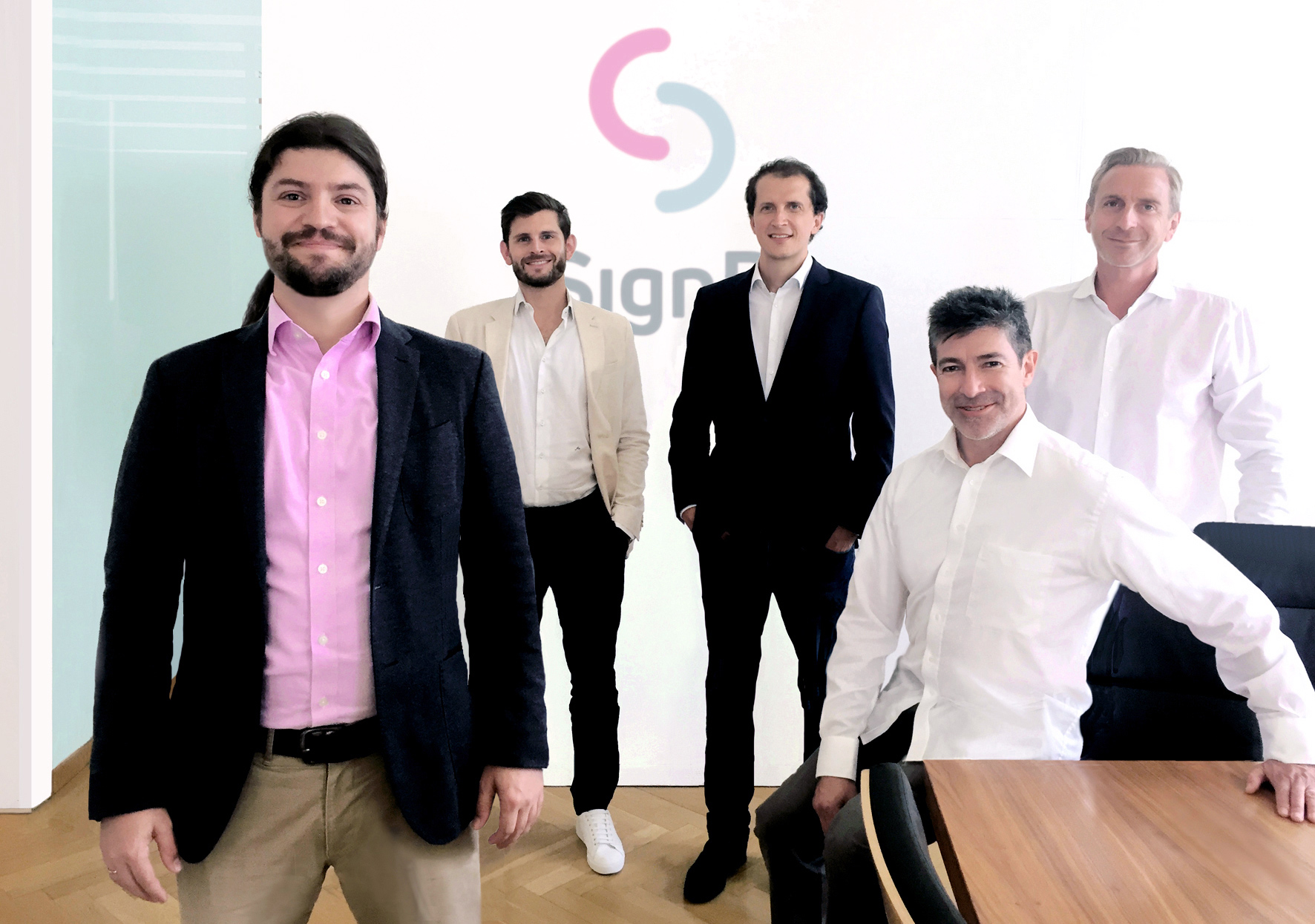 From left to right: Bernhard Reiterer (Gründer & CEO SignD), Florian Übelacker (CCO primeCROWD), Martin Bechter (COO primeCROWD), Lisandro Aguilar (COO SignD), Dieter Kindl (CCO SignD) 

(c) DeBond

>> https://signd.id
Agency contact SignD
Reiter PR
Gabriela Mair
M: +43 676 908 3571
E: Diese E-Mail-Adresse ist vor Spambots geschützt! Zur Anzeige muss JavaScript eingeschaltet sein!